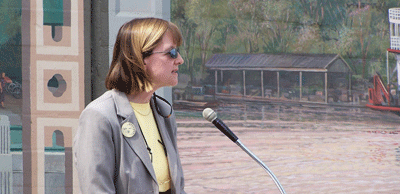 Nancy Bell, Foundation Executive Director
In any city, there are landmark buildings that contribute to the city's history, both through the function that they perform and their architecture. Examples include the downtown YMCA, the Hotel Vicksburg, the Aeolian Apartments, Trustmark National Bank (First National Bank), old Merchant's National Bank (Piazza-Botto Building), National Park Hotel (Piazza Hotel), Carroll Hotel, Washington Hotel, City Hall, Mississippi River Commission Building (old post office), Warren County Court House, The Old Court House, Joy Theater, Craig-Flowers Home, Jewish Synagogue, and many, many more.
As we live, we interact daily with these buildings, they become part of us and once gone, there is a little of us that is also gone. What is important is that a building is gone forever and no one in the future will be able to enjoy or interact with it. In many ways we have become a throw-away society. It costs more to fix a VCR than to get a new one. Unfortunately to some, buildings are often thought of that way as well.
Oftentimes, rather than put money into a building and adapt it for a new use, we think that new is better and we tear down. Many times, the lot remains vacant or a new building is built in a design and materials that will not survive the test of time.
Over the years, there have been a number of catalysts for demolition. Probably the most significant in terms of number is the Urban Renewal program in the 1970s, when literally hundreds of buildings were demolished in and around the downtown area. Buildings including the National Park Hotel, Carroll Hotel, Washington Hotel, Masonic Lodge (corner of Washington and Grove), Piazza-Botto Building, and buildings in the entire 1000 block of North Washington Street.
Another was the tornado of 1953 which completely destroyed some commercial and residential buildings, damaged or destroyed upper stories of commercial buildings, and damaged some buildings to a point that they were structurally unstable, necessitating their demolition.
Most important now is demolition for redevelopment instead of adaptive use of the building. Unfortunately once the building is in disrepair, a simple solution is demolition.
In our "Vicksburg in Peril" section, we will highlight significant buildings which we believe are threatened with demolition, demolition by neglect or the owner is seeking the opportunity to develop the site. When you look at the photographs on our site you will get an idea of the wealth of our city in terms of the significant number of buildings that remain.
You will also note from the photos of buildings that are gone, that our community has lost and continues to lose a significant portion of this collection. That which has always made Vicksburg unique is its connection with the past, whether it is the National Military Park, the Old Mississippi River Bridge, the Mississippi River, antebellum homes, tree-shaded streets such as Chambers and Drummond lined with historic residences, National and Polk streets with their wealth of 1930s bungalow homes or Farmer and Locust streets with their rich mix of turn-of-the-century architectural styles.
To us, Vicksburg is a national treasure and we want to do what it takes to keep our remaining historic buildings. We hope that you will join us in this mission and will become a member, restore a building, encourage your children to appreciate the tangible history that surrounds them, and voice your support for the preservation of our community's architectural heritage when it is needed.
Should you have any questions regarding historic preservation or the Foundation, please do not hesitate to call me at 601-636-5010 or email us at vburgfoundation@aol.com